Commercial Electrician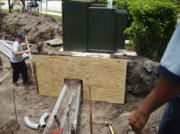 Does your business need a motion sensor light installed for increased security? How about landscape lights so your company's sign can be seen at night? Maybe you're building a new office space and need talented electricians to install multiple phone and cable lines. Whatever electrical jobs your business requires, the best team of electricians in the Boca Raton area, All Pro Electrical Contractors and Air Conditioning, Inc., is here to help!
Calling experienced electricians in to work on your business is essential if you want to enjoy top quality electrical work that looks great, performs well, and will last for years to come. The insured and licensed commercial electricians at All Pro Electrical Contractors and Air Conditioning, Inc. will perform electrical repairs, installation, and maintenance on your new or existing business. We can perform both indoor and outdoor work for business customers of all kinds, including:
Municipalities and local governments
Stores and restaurants
Educational and spiritual institutions
Small business owners
Property managers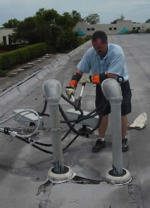 So no matter what type of commercial property you have, our professionals are ready to provide a full range of electrical repair, maintenance, and installation services.
At All Pro Electrical Contractors and Air Conditioning, Inc., our electricians will go the extra mile to help you plan and design each new installation and will keep you educated during each step of the job. Our commercial electricians are versatile--they can help you plan the most efficient and cost-effective wiring system for your new building or design an attractive and effective layout for your landscape lighting. Our experts can advise you on what type of electrical panel upgrade would work best for your particular needs, ensure that all outdoor lights are properly protected from the elements, hook up a transfer switch in your breaker box for your new generator, strip wires for electric outlet installation, and more. No job is too large or small, and we never, ever cut corners on any protect. That's why you can trust us to give you the best results possible.
Some of the many services we perform include: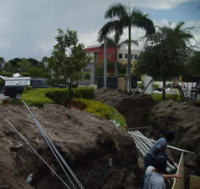 Electrical repairs and troubleshooting
Electrical panel upgrades, including service upgrades
Generator installation
Outlet and switch installation
Lighting installation,
Landscape and exterior lighting, including security lighting
Power distribution systems
Wiring upgrades
Telephone/data wiring
Every successful business requires high-quality electrical installation and maintenance to keep operations in top-notch shape. For safe, quick service that will serve your business for years to come, call the best electricians in the Boca Raton area. At All Pro Electrical Contractors and Air Conditioning, Inc., we will put our 31 years of experience to work for you!
Electrician in
Home Rewiring
Master Electrician
Electricians in
Electric Service Upgrade
Electrical Contractor