Electrical Panel Upgrade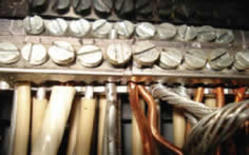 Older buildings have their charms, and their problems. Creaking floors, poor circulation and drafty window are a nuisance, but no old building problem is quite as troublesome as an outdated electrical panel. Although the electrical panel in your building may have been sufficient when it was first installed, technologies have advanced so much that older models are quickly becoming obsolete. At All Pro Electrical Contractors and Air Conditioning, Inc., we can help. Call today to learn about our electric panel upgrade service and how we can help get your older building's electrical system back up to snuff. Our electricians have been modernizing homes and businesses in the Boca Raton area since 1995.
If you're wondering whether your business or house may require an electric panel upgrade, some common signs include flickering lights and appliances that won't run on full power. Also, if you frequently find blown fuses or tripped breakers in your electrical box, you may want to look into updating your home's or commercial property's electrical system. The simple truth is that many older panels are just not equipped to handle the energy demands of modern living. If your office needs a trusty electric panel to support its many computers, or if you need an electric panel upgrade to accommodate your new home theater system, look no further. In addition to electrical service panel upgrades, our electrical contractors can also replace your meter socket, replace the wires between the utility and the meter, and replace your grounding system. Such replacements are frequently necessary to reduce risk of fire, shock, and other dangers associated with faulty or inefficient electricity. We believe in quality work that is geared toward excellent service and uncompromised safety. Let our electrical panel upgrade professionals ensure your electrical system can help your home or business run efficiently and effectively.
The electrical panel upgrade cost is negligible in comparison to the money you will be saving when you opt to have an electrical panel upgrade performed. When your appliances are running on full power rather than partial, weakened power, they require less energy to perform properly, actually saving you money on your energy bills! At All Pro Electrical Contractors and Air Conditioning, Inc., our licensed and insured electric service panel upgrade specialists will be able to determine (based on your needs) what kind of electrical panel upgrades are necessary for your home or business space. Plus, we even offer a lifetime warranty on panels and breakers!
Enjoy 21st century conveniences with the help of an electrical service panel upgrade. Don't put up with an electrical panel that won't allow you to use two appliances in the same room or that makes the lights flicker ominously during dinner. Call All Pro Electrical Contractors and Air Conditioning, Inc. today, and see why we're the preferred electricians in the Boca Raton area!
Electric Panel Upgrade
Breaker Panel Cost
Electrical Service Panel Upgrade